Last Updated on
"North Cyprus has managed to remain immune to the fast changing pace most of the world has seemed to adopt. Here you will not find the 'usual' shops or fast food restaurants that seem to have popped up on every street corner in other parts of the world."

— euroCARE IVF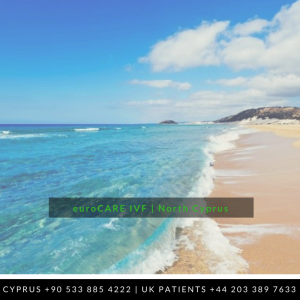 Uniquely situated at the crossroads of Europe, Asia, Africa, and the Middle East, euroCARE IVF is easily accessible for anyone traveling abroad for infertility treatment. The landscape diverges among rugged coastlines, golden beaches, and forest-covered mountains.
Distended with all-encompassing personality of one of the most unique fertility destinations, North Cyprus brings tourists to a place of colorful history and modern existence.
Cyprus has two international airports — in North Cyprus, the Turkish side, there is Larnaca and on the Greek side there is Pafos, with Larnaca being the main arrival point for international scheduled flights.
Exclusive access to North Cyprus can only be gained through Turkey. From major cities in Turkey- Istanbul, Ankara and Izmir you can book a direct flight to Cyprus. There are consistent scheduled flights out of UK and other European countries to Cyprus. Tourists can also now fly into the south and travel across the border in Nicosia to the north.
Getting to Cyprus by Air
Larnaca (LCA)
Ercan (ECN)
Getting to Cyprus by Water
Main ports: Passenger ships from the ports of Limassol and Larnaca connect Cyprus with various Greek and Middle Eastern ports, including Piraeus, Rhodes, Heraklion, Haifa, Port Said, Jounieh and many Greek islands.
Getting Around Cyprus
Traffic drives on the left.
Bus – Services connect all towns and villages on the island every day except Sunday and public holidays (limited services only).
Taxi – These run 24 hours between all the main towns on the island. Fares are regulated by the government and all taxis have meters.
Things to See in North Cyprus
Baths of Aphrodite – The legendary Akamas Peninsula, defined as the Greek goddess of love bathed is a spectacular site to see.
Castles – Dive into the enthralling exploration of one of Cyprus' ancient castles. Saint Hilarion castle is made up of limestone rocks from the Besparmark Mountains and Kolossi Castle, near Limassol, are extremely impressive sites.
Hala Sultan Tekke – Just minutes from Larnaca Airport, you can discover a breathtaking view of Hala Sultan Tekke, a historic mosque on the edge of Larnaca Salt Lake.
IVF Clinics in Cyprus
Once you click the button you will receive your quote in your email within a few minutes and we will never spam you.
Relaxing Environment
Situated in the scenic Mediterranean town of Nicosia. Relax. Unwind.
World-Class Fertility Care
Modern clinic boasting state-of-the-art equipment, advanced IVF procedures, and the leading IVF specialists in North Cyprus.