Last Updated on
"Our goal at EuroCARE IVF is to ensure that you receive the highest quality of care in a comfortable, inviting atmosphere."
— EuroCARE IVF Cyprus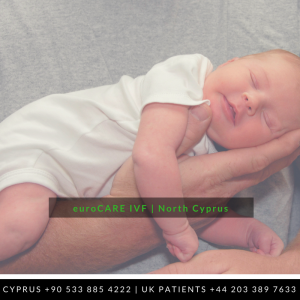 After 40, women have less than a 4% chance to conceive with their own eggs. With EuroCARE IVF, not all hope is lost. Our special IVF over 40 program provides an alternative path to help you reach the most amazing destination in life —  parenthood. How?
By using two sets of eggs — your own and those of your chosen donor.
Diminished ovarian reserve is a common cause of infertility or subfertility in women after the age of 40. With our exclusive IVF over 40 treatment options, age is no longer an obstacle to becoming a mom. All you need is to choose an egg donor and get ready for the adventure of your life — a life-changing journey in North Cyprus.
What exactly is Tandem IVF?
Tandem IVF is a combination of regular IVF-ICSI treatment and IVF-Egg Donation cycle. The treatment uses eggs from the patient and an additional set of eggs from a chosen donor for reproductive purposes. This means that women with a low ovarian reserve can attempt pregnancy using their own eggs first — while having a backup egg reserve through the use of an egg donor. Fantastic!
Is Tandem IVF suitable for you?
Do you have low ovarian reserves which have not been completely exhausted yet? Then, Tandem IVF might be a suitable option for you. It is also important that you still have regular menstrual cycles and that you ovulate so that you can be considered for this treatment. If there are no eggs left in your ovaries and you no longer ovulate, egg donation may be advised. Before advising any treatment option, we'll run several tests (such as hormone blood tests, genetic and fertility tests) to determine if there are still good chances to use your own eggs or at least improve your fertility prospects with an individualized pre-treatment plan. 
Why should you consider Tandem IVF? 
What is better than a 2-in-1 treatment package? Not only does Tandem IVF boost your chances of a successful pregnancy, but it also cuts the costs by half. With this treatment option, you will pay for one treatment cycle while getting the services for two cycles. Amazing, right?

But that's not everything.
In addition to its affordability, a Tandem IVF cycle allows you to receive a lower dose of medication since you will only be needing a few good-quality eggs. 
At the end of your IVF treatment cycle, you can choose any combination of embryos to use for the transfer. This also allows you to transfer your own embryos first and freeze any remaining embryos for future use — without facing the cost of two separate cycles.
An unforgettable trip to North Cyprus
We are well aware that fertility treatment can be stressful. What have we done to optimize your treatment experience? We designed treatment holiday packages to relieve your stress and provide an unforgettable time on the beautiful island of Cyprus.
Check out the success story of our beloved couple from Scotland, Jamie and Laura to get a feel of what it is like to have fertility treatment at the EuroCARE IVF Center in Nicosia. 
Find out the details of our treatment packages and get booked for a memorable medical trip to the safe haven of North Cyprus
IVF Clinics in Cyprus
Once you click the button you will receive your quote in your email within a few minutes and we will never spam you.
Resources:
https://en.wikipedia.org/wiki/Mitochondrial_replacement_therapy