Last Updated on
"Our goal at euroCARE IVF is to ensure that you receive the highest quality of care in a comfortable, inviting atmosphere."
— euroCARE IVF Cyprus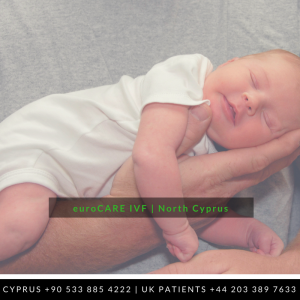 After 40, women have less than a 4% chance to conceive using their own eggs. For this reason, we advise women of advanced reproductive age to use one of the several options available in the frame of our special IVF over 40 program in Cyprus.
Tandem Cycle IVF Cyprus

IVF involves retrieving eggs from a woman, collecting sperm from a man, fertilizing the eggs with the sperm, transferring the embryo(s) into the woman's uterus. Tandem IVF involves an additional egg from an egg donor, and manipulating both the mother's egg and the donor egg.
Cytoplasmic Transfer IVF Cyprus
Cytoplasmic transfer is a technique of last resort after repeated IVF failure or at advanced maternal age. Poor egg quality may also be a result of environmental toxins, including drugs  and smoking.
In Tandem IVF, a cytoplasmic transfer from the donor egg into the compromised egg from intended parents is performed. During the transfer, a small amounts of cytoplasm containing mRNAs, proteins and mitochondria, as well as other factors and organelles will be placed into the recipient's egg. The rejuvenated egg will be then fertilized with the father's or donor's sperm at our IVF clinic in Cyprus.
Tandem IVF Cycle Cyprus Success
The cytoplasm from a donor egg appears to increase the quality of the recipient's egg to the level where the embryo produced is healthy and viable.
The resulting child/children are genetic offspring of the patients, apart from the presence of cytoplasm from the donor egg.
Why Tandem IVF in North Cyprus?
Our leading IVF clinic offers advanced fertility treatments and exceptional, personalized services. Treatments include advanced in vitro Fertilization (IVF), IVF with Egg Donation, PGD for genetic diagnosis, Gender Selection and MicroSort.
In addition to these treatments, euroCARE IVF offers Tandem IVF Cycle — an IVF treatment option for women in older age brackets who have diminished ovarian reserves.
Tandem IVF allows women with lowered ovarian reserves to have a chance of pregnancy using their own eggs, but at the same time having a back-up egg reserves through the use of an egg donor.
Benefits of Tandem IVF Cycle in North Cyprus
A Tandem IVF cycle may allow you to receive a lower dose of medication since you will only be needing a few good quality eggs. At the end of your IVF treatment cycle, couple can choose any combination of donor/own eggs to use for the embryo transfer.
This also allows you to implement your own eggs first and freeze donor's eggs for a future cycle without facing the cost of two separate cycles.
Please keep in mind that Tandem IVF is most suited for women whose ovarian reserves have been depleted — but not completely exhausted. It is important that you still have regular menstrual cycles and that you still ovulate so that you can be considered for this treatment. Otherwise, if you have no antral follicles in your ovaries and you no longer ovulate, you should consider egg donation as an option.
IVF Clinics in Cyprus
Once you click the button you will receive your quote in your email within a few minutes and we will never spam you.
Resources:
https://en.wikipedia.org/wiki/Mitochondrial_replacement_therapy